As expected, Google's added games to its Google+ social networking service – and Facebook has fired right back with new gaming features of its own.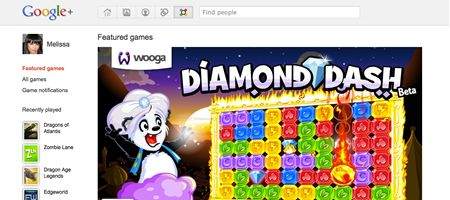 Unlike in Facebook, games don't appear in every Google+ user's stream.
"That means giving you control over when you see games, how you play them and with whom you share your experiences. Games in Google+ are there when you want them and gone when you don't," says Vic Gundotra, Google's senior vice president of engineering.
"When you're ready to play, the Games page is waiting — click the games button at the top of your stream. You can see the latest game updates from your circles, browse the invites you've received and check out games that people you know have played recently."
Players' scores also appear on the Games page, so that players don't bore their friends with their interminable high scores – friends will only see the updates when they go onto the page themselves.
There are 16 games available so far – Angry Birds, Bejeweled Blitz, Bubble Island, City of Wonder, Collapse! Blast, Crime City, Diamond Dash, Dragon Age Legends, Dragons of Atlantis, Edge World, Flood-It!, Monster World, Sudoku, Wild Ones, Zombie Lane and Zynga Poker.
"Angry Birds for Google+ Games is a great start, but it's just our first step in social gaming," says Rovio CEO Mikael Hed. "Social gaming is going to be massive."
Meanwhile, Facebook has launched new gaming features of its own, including a larger gaming screen and a ticker showing friends' gaming activity, scores, and achievements.
"When you're playing games, you'll now see a separate stream of your friends' game activity, scores and achievements in a ticker. The best way to find new games is through friends, and now you'll have more opportunities to see what they're playing," says the company's Jared Morgenstern on the company blog.
"Maybe your best friend has started playing Sims; your roommate has a new high score on PacMan; or your mom and sister have taken up Words With Friends. Simply click on a story and you can start playing the game yourself."