Pandemic Studios has released The Saboteur into Nazi-occupied Paris. ??
According to EA spokesperson Nick Earl, the game portrays a war-time city that is corrupt, riddled with danger and "more than a little" sexy.
?
"The Saboteur is set in World War II France and takes players through the seedy underbelly of Paris as hero Sean Devlin sets off on a revenge mission," explained Earl.
??"Devlin fights, climbs, and races through [an] open-world Paris, sneaking into the heart of the Nazi operations and sabotaging their every move."
The Saboteur is aided by both the French Resistance and British intelligence, which help him execute a number of deadly strikes, including derailing trains and blowing up zeppelins.
"As Sean takes down enemies, the citizens of Paris are empowered to resist the tyrannical Third Reich and their eyes open to the colorful world around them. This innovative mechanic, called the 'Will to Fight,' will change the way Paris is seen and felt – from a dark and oppressed policed state to a bright and inspired world where the citizens fight back," said Earl.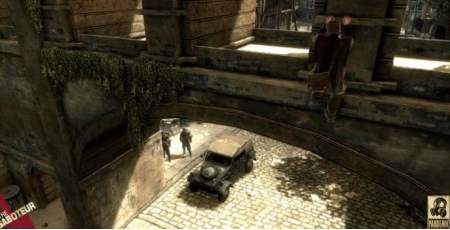 "As the player executes acts of sabotage against the occupying force, color returns to the stylized black and white world – both figuratively and literally."
Earl added that EA has also announced a Saboteur DLC known as the Midnight Show. The racy DLC unlocks a V.I.P room at the The Belle de Nuit, offers access to several sultry cinematics, opens five seedy hiding spots in Paris and includes a Midnight Show mini game.
In addition, the DLC allows players to unlock a number of nudity scenes within the game itself.
"The Midnight Show DLC takes all of this edginess to the next level, but in an authentic, organic way. This feels like the Director's Cut of the game. We're very proud to have the opportunity to deliver this alternate experience with a DLC pack that is so polished and robust." ?