Opinion – The 2009 Electronic Entertainment Expo (E3) is poised to kick off on June 2 at the LA Convention Center. Organizers are apparently hoping that this year's shindig will help resurrect the glory days of gaming.

"(The 2009) E3 Expo has garnered overwhelming support from members, exhibitors, attendees and media," spun Michael D. Gallagher, CEO of the Entertainment Software Association (ESA). "We anticipate a blockbuster show fully-loaded with industry news, unveilings, introductions and announcements that will continue to drive our industry forward."
Unfortunately, E3 has been closed to the general public since 2007 and is currently considered a "trade-only event." Nevertheless, the glitzy 2009 iteration of the conference is expected to attract up to 40,000 participants. While 40,000 is a respectable number, it is certainly a far cry from the 70,000 starry-eyed gamers who attended the show in 2005. Of course, the industry is still reeling from the restricted attendance of 5000 participants during the 2008 expo.
Indeed, Spore creator Will Wright characterized E3 2008 as "the walking dead."
"It almost feels like a zombie at this point; it's the walking dead," complained a despondent Wright. "It's such an abrupt end to what was E3, which had been this huge escalating arms race….Right now we're in this kind of dicey, do we have an event, what event is it, which one do we go to? I think we're in an uncomfortable transition zone when really the real E3 died a couple of years ago."
Unsurprisingly, attendance guidelines were relaxed for E3 2009 after panicked game publishers realized that April software sales had sunk 23 percent to $511 million.
Although sales may eventually recover, one can't help but wonder if the industry had reached its apex during the heady 1990's. To be sure, the grunge and smoke-filled decade was filled with a virtual cornucopia of groundbreaking games and technology.
Who can forget the the first time they played Wolfenstein or Doom? Ditto for the vertigo caused by navigating the confusing and nausea-inducing Descent universe. And what about the OpenGL version of Quake, the subsequent introduction of bots with improved AI and Unreal games that consumed entire weekends?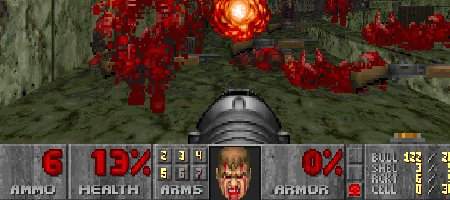 But enough nostalgia over first-person shooters. There are plenty of classic strategy, RPG, and adventure games that are worthy of remembrance, including Colonial Conquest, Starflight II, the Final Fantasy series, Myst, The Secret of Monkey Island (SCUMM engine), Master of Orion, Sim City, Warcraft, Civilization and Age of Empires.

Notable console moments? Well, I can recall more than a few. Playstation, Sega Genesis & Saturn (ah, Street Fighter 2), Nintendo SNES & 64. From cartridges to discs, we played them all.
Of course, none of the above-mentioned titles or technology can compare to the overwhelming processing power and eye candy found in today's video games and platforms.
But are they as fun? Maybe.
Strangely enough, I find myself playing modern console titles that hearken back to the golden age of video games, such as Command & Conquer: Tiberium Wars, The Elder Scrolls IV: Oblivion, Fallout 3, Supreme Commander and Civilization Revolution.

Today's games are undeniably smooth, rendered without the annoying lag that plagued early consoles and PC's. But there is something missing, something that was perhaps found only in the glory days of gaming.
Unfortunately, nothing can resurrect that, not even glitzy LA and E3.