We wants it, we needs it. Yes, must have the precious Skyrim collector's edition.
And we will, because Bethesda has put the One Edition to rule them all up for pre-order on Amazon. Let's take a closer look at this beautifully constructed masterpiece, shall we?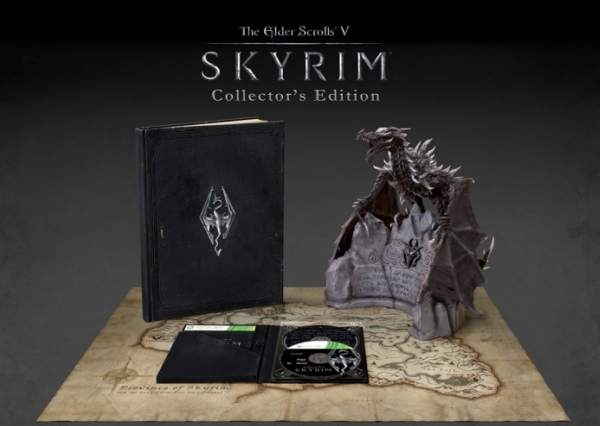 First off, the limited version of the long-awaited fantasy RPG will be available for multiple platforms, including the Xbox 360, PS3 and Windows.
The collector's edition is slated to go live on the same day as the regular iteration of the game: November 11, 2011, which frankly, can't come soon enough for me.
Now here's what you've all been waiting to hear. Yes, this uber-cool version of The Elder Scrolls V: Skyrim includes:


The Alduin statue – Created in conjunction with the IP Factory, the collector's only statue stands 12″ tall and was modeled from actual in-game 3D digital files. 


The Art of Skyrim – Featuring over 200 pages of full-color illustrations, sketches and models, the 9 3/8″ x 12 1/8″ coffee table book showcases the characters, creatures, environments and weaponry of Skyrim. 


The Making of The Elder Scrolls V: Skyrim DVD – Contains exclusive, behind-the-scenes footage, including interviews with the Bethesda Game Studios team as they take you from concept to creation and provide insights into the story, gameplay, setting and legacy of the Elder Scrolls franchise.
Well, that's the good news. The bad news, as you may have already guessed, is related to the price tag, which currently stands at a whopping $150.
Yeah I agree, $150 is pretty hefty, but think of it this way, I mean, we've been waiting 5 years for this utterly amazing game, so why not splurge a little, if you can?