Although there have been many great rock photographers throughout the years, you still get the feeling rock photography is still not taken seriously in many corners.
This is really a shame, because as far as we're concerned, it takes tremendous skill, instinct and ability to create the classic rock shots we've all loved growing up.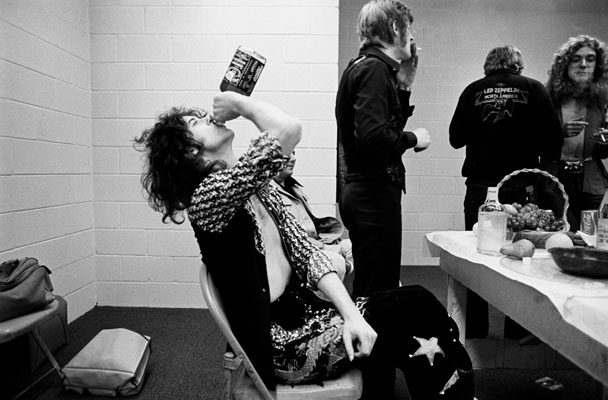 Often times you'll remember a classic rock photo, but you may not know who took it. The late Jim Marshall was known for his classic shots of Jimi Hendrix, The Allman Brothers, and Janis Joplin, Neil Zlozower was considered "the fifth member" of Van Halen for his incredible work with the band in their prime, and Neal Preston has probably taken every classic shot of Led Zeppelin you've seen and loved. (One of his best known is the black and white backstage shot of Jimmy Page slugging back a bottle of Jack.)
Now Preston's best work with Zep will be available in Led Zeppelin: Sound and Fury, which will be available exclusively through the iBookstore store on April 15. Preston is calling Sound and Fury "an eBook on steroids," and judging from what we've seen so far, it does indeed look like an incredible visual document of one of the greatest bands in history.
Fury contains 250 shots, and Preston said that half of them have never been seen before. Yet Fury isn't just a compilation of classic rock photos. It will also have video interviews with Zeppelin alumni, 80 expandable contact sheets, 25 audio commentaries to go with the pictures, 24 Led Zeppelin set lists, an introduction written by Stevie Nicks, essays from Ann Wilson and Wendy Melvoin from Prince's band, and much more.
In recent years we've seen a number of rock photography gift books, and a quality volume of Preston's work has been long overdue. Yet the iBook format will take things even further than a print book can. As Preston explained, "The good thing about doing a book like this digitally is we can update the book going forward. We can make it an ongoing experience."
So if you dig Zeppelin, and who doesn't?, and if you love great rock photography, Led Zeppelin: Sound and Fury By Neal Preston is an absolute must.