Disney has released a character guide for its upcoming Oz reboot.
They haven't come out and said so, but I believe Disney is planning on readapting Oz from the ground up, but this time instead of starting with the tale of Dorothy, they're kicking off with the story of Oscar Diggs, the man who becomes the titular Wizard of the original book, and the classic MGM adaptation.
Thus, the new film may serve both as a prequel to The Wizard of Oz – more the book than the film – and as the reboot to which the unannounced readaptation of The Wizard of Oz will be a sequel. Semantics aside, it's shaping up to be a colorful and compelling look at the Oz story with a talented cast, and a bevy of fun special effects. Also, it makes me want to wear a top-hat.
As part of the promotion for the film, Disney has recently released a character guide, explaining where each major character comes from, and explaining how they fit into the lore of the original books.
Each character description comes with a quote from the original Wizard of Oz novel, showing where author Frank L. Baum first introduced the idea of that character – with the exception of Frank (likely named for Baum), the only character listed who was invented for the film, rather than adapted from the source material. The following is from the character guide:
Oz (Oscar Diggs) played by James Franco
"Well, one day I went up in a balloon and the ropes got twisted, so that I couldn't come down again. It went way up above the clouds, so far that a current of air struck it and carried it many, many miles away. For a day and a night I traveled through the air, and on the morning of the second day I awoke and found the balloon floating over a strange and beautiful country." – Oz
Oscar Diggs, aka Oz, is a small-time magician who takes his magic act on the road as part of a traveling circus in the Midwest. A man with dubious ethics, Oz is a handsome, charming charlatan who is skilled at smooth-talking his way out of problems. When he is hurled into the magical Land of Oz, Oscar faces a fight-or-flight dilemma that holds the fate of a kingdom in the balance, forcing him to decide what kind of man he truly is before it is too late.
Theodora played by Mila Kunis
"In the civilized countries I believe there are no witches left, nor wizards, nor sorceresses, nor magicians. But, you see, the Land of Oz has never been civilized, for we are cut off from the rest of the world. Therefore we still have witches and wizards amongst us." – Glinda
Theodora is a beautiful, naïve witch who is protected by her powerful sister Evanora. Theodora only wants peace to come to the Land of Oz and truly believes that a prophesied wizard will arrive someday to restore order.
Evanora played by Rachel Weisz
"One of my greatest fears was the Witches, for while I had no magical powers at all I soon found out that the Witches were really able to do wonderful things." – Oz
A witch to be feared, Evanora is Theodora's over-protective sister. With her penetrating gaze, she exudes a powerful presence and has positioned herself as the royal advisor and protector of Emerald City.
Glinda played by Michelle Williams
"The Witch of the South. She is the most powerful of all the Witches, and rules over the Quadlings… She is kind to everyone. I have heard that Glinda is a beautiful woman, who knows how to keep young in spite of the many years she has lived." – Soldier
Glinda is a good witch who rules over a peaceful kingdom of simple, kind folk. Beautiful Glinda is not only a compassionate and benevolent witch, but also a fierce protector of her people. Though Glinda sees through Oz's façade early on, she knows genuine goodness lies within and helps Oz achieve his true destiny.
China Girl voiced by Joey King
"But the strangest of all were the people who lived in this queer country. There were milkmaids and shepherdesses, with brightly colored bodices and golden spots all over their gowns; and princesses with most gorgeous frocks of silver and gold and purple; and shepherds dressed in knee breeches with pink and yellow and blue stripes down them, and golden buckles on their shoes; and princes with jeweled crowns upon their heads, wearing ermine robes and satin doublets; and funny clowns in ruffled gowns, with round red spots upon their cheeks and tall, pointed caps. And, strangest of all, these people were all made of china, even to their clothes, and were so small that the tallest of them was no higher than Dorothy's knee."
China Girl is from the village of China Town, where everything, including the inhabitants, is made of china. When destruction befalls her land, the brave, resilient China Girl encounters Oz and they strike up an unlikely friendship.
Finley voiced by Zach Braff
"But if you are going to call the Winged Monkeys we must run away, for they are full of mischief and think it great fun to plague us." – The Queen of the Mice
Finley is a winged monkey that accompanies Oz on his journey. Finley doesn't have a high opinion of Oscar and lets him know it. Ultimately he becomes a loyal ally and helps Oz discover his true self.
Frank played by Zach Braff
"I do not know where Kansas is, for I have never heard that country mentioned before. But tell me, is it a civilized country?" – Glinda
Frank is Oz's assistant and right-hand man—he's the money handler, costume mender and prop wrangler for Oz's magic act. Frank is put upon and underappreciated but is Oz's only friend.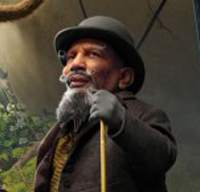 Knuck played by Tony Cox
"I am the Guardian of the Gates, and since you demand to see the Great Oz I must take you to his Palace. But first you must put on the spectacles… [I]f you did not wear spectacles the brightness and glory of the Emerald City would blind you. Even those who live in the City must wear spectacles night and day. They are all locked on, for Oz so ordered it when the City was first built, and I have the only key that will unlock them." – The Guardian of the Gates
Knuck is a dour, unsmiling Munchkin, who, as the Herald of Emerald City, announces all the visitors. Despite his cantankerous demeanor, he is loyal to Glinda and thus reluctantly becomes Oz's ally.
Winkies
"The Winkies were very kind to me, and wanted me to rule over them after the Wicked Witch died. I am fond of the Winkies, and if I could get back again to the Country of the West, I should like nothing better than to rule over them forever." – The Tin Woodman
The Winkies are the formidable, spear-carrying, 8-foot tall, uniformed guards of Emerald City under the command of Evanora.
Quadlings
"The country of the Quadlings seemed rich and happy. There was field upon field of ripening grain, with well-paved roads running between, and pretty rippling brooks with strong bridges across them. The fences and houses and bridges were all painted bright red, just as they had been painted yellow in the country of the Winkies and blue in the country of the Munchkins. The Quadlings themselves, who were short and fat and looked chubby and good-natured, were dressed all in red, which showed bright against the green grass and the yellowing grain."
The Quadlings are inhabitants of Glinda's kingdom. They are kind-hearted, simple country folk who are mostly farmers.
Munchkins
While she stood looking eagerly at the strange and beautiful sights, she noticed coming toward her a group of the queerest people she had ever seen. They were not as big as the grown folk she had always been used to; but neither were they very small. In fact, they seemed about as tall as Dorothy, who was a well-grown child for her age, although they were, so far as looks go, many years older.
The Munchkins are giggling, happy little people, who live peaceful lives singing and making pretty clothes. Though they don't have a care in the world, they are loyal to Glinda and do their best to help her if and when she needs them.
Here is the latest trailer for the film:
And the official synopsis:
When Oscar Diggs, a small-time circus magician with dubious ethics, is hurled away from dusty Kansas to the vibrant Land of Oz, he thinks he's hit the jackpot–fame and fortune are his for the taking–that is until he meets three witches, Theodora (Mila Kunis), Evanora (Rachel Weisz) and Glinda (Michelle Williams), who are not convinced he is the great wizard everyone's been expecting. Reluctantly drawn into the epic problems facing the Land of Oz and its inhabitants, Oscar must find out who is good and who is evil before it is too late. Putting his magical arts to use through illusion, ingenuity–and even a bit of wizardry–Oscar transforms himself not only into the great and powerful Wizard of Oz but into a better man as well.
Oz the Great and Powerful, helmed by genre veteran Sam Raimi, is slated to drop into theaters on March 8, 2013.