After tempering expectations for the PC launch, Blizzard is saying a console version is actively being explored.
"We think that the way we built it for the PC may need some tweaking, but it will ultimately be the type of game that can really make sense and be really fun, well polished and a true Blizzard-level experience on a console," said Blizzard COO Paul Sams in a CVG interview.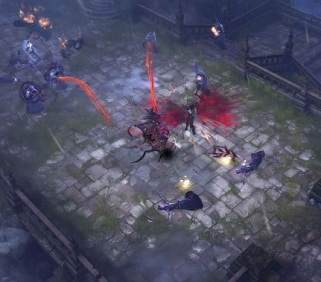 "We get a lot of questions about why we haven't made a game for consoles before and I tell them the same thing I tell them about business models: we don't let business models or platforms drive our decisions. Those are secondary to what's the most important aspect for us which is the gameplay," he continued.
"After many years of hard work by our development team and months of beta testing by hundreds of thousands of dedicated players around the world, we're now in the homestretch," Blizzard CEO Mike Morhaime said in a statement when confirming the PC launch date.
But that announcement was tempered by community manager Bashiok, who wrote in an official blog post, "Part of my job is managing people's expectations, so… eh… stop it. Stop thinking about how awesome this game could be. Just imagine it's a new M. Night Shyamalan movie. Sure Sixth Sense was amazing and Unbreakable had it's moments, but this right here is the sequel to The Village … or The Happening … or Signs … or any of the movies besides the two I first mentioned. So just like, lower those expectations, but still definitely buy the game please, and everything will be just fine. K?"
Regardless, it will no doubt be a truly compelling PC gaming experience. It just might not be something that makes you have a different outlook on life.
So what Blizzard is saying is that the console version will be on par with the PC version.
"We think that we can have a really exciting and compelling experience that will play well on console in addition to PC We do feel it's an exciting opportunity. If we feel we can have a game on multiple platforms, then we'll do it. We're not afraid to," Morhaime said.