Apple may be in the process of developing a new HD audio format for its iCloud streaming service.
According to The Guardian, the format will significantly improve streaming, while offering "high-definition" quality for users who have access to more bandwidth and storage available on their iPhone, iPad or iPod.
If implemented, the format will also likely upgrade Cupertino's iTunes Match service with higher quality audio.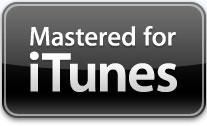 "A source with inside knowledge of the process says Apple has asked a London studio to prepare audio files for a new streaming format that will adapt to bandwidth or hardware capabilities," The Guardian claimed.
As expected, Apple's new fomat will activate and run seamlessly. Meaning, when a user doesn't have the bandwidth or storage available to access HD tracks, standard-definition original tracks will kick in. For example, when a user accesses his or her music via Wi-Fi, the new HD format will stream, while 3G access will prompt the streaming of the older, lower definition format.
It should be noted that this is the second time we've heard Cupertino is working on a high-definition audio format. Early this month, classic rock legend Neil Young revealed he and Steve Jobs were in the process of coding a fresh HD format before Jobs passed away.
Although details are scarce, AppleInsider cites The Guardian assuggesting the new streaming format may be announced alongside the next-generation iPad, which could launch on March 7.