As a young metalhead, the mid-eighties were a really exciting time for me. Speed/thrash metal was an exciting sound, bringing in the anger and velocity of punk, taking the music into brave new territory.


Metallica were the kings of thrash, and were soon going to go to become one of the most legendary bands in metal history, and the bands that would be king included the Big Four of Slayer, Anthrax, Megadeth. Not to mention Exodus were also gods on the San Francisco scene, where the thrash sound really flourished.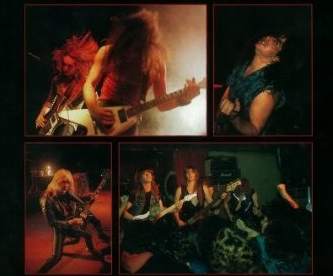 Now photographer Harald Oimen has compiled his photos from the glory days of thrash metal with Murder in the Front Row, which is named after a line in the Exodus song Bonded By Blood.
This book has come out through the indie publishing company Bazillion Points, which was put together by Ian Christie, who also wrote Sound of the Beast, a comprehensive history of metal published by Harper Collins.
Flipping through the book, you'll realize Oimen took many of your favorite early Metallica photos, and Murder is a fascinating journey back to when the music really felt fresh and exciting, and when the mosh pit came to metal gigs. 


In the book, Exodus guitarist Gary Holt says the slam pits at metal gigs started up North, and although the crossover between metal and punk at first didn't come easy, and it initially made the scene even more violent, eventually the walls between the styles did come down, and it was a necessary step for metal to grow and progress.
Going through the book myself, it brought a lot of memories flooding back, as I'm sure it will for a lot of other metalheads, and it's also fascinating to see how the bands progressed and developed. Before Metallica became one of the biggest bands in the world, the San Francisco scene had a real camaraderie where all the bands knew each other, were fans of each other, came out to the gigs and supported each other.
Of course, if a band gets the opportunity to get bigger, they're going take it, and it's sad to see a cool music scene come to an end, which is why Murder in the Front Row is a wonderful time capsule. It takes you back to when the sound was new, fresh, and on its way to being the way of the future.