I don't generally care about furniture. Really, if the couch doesn't make me numb after sitting there watching TV for a couple hours, well, that's pretty much good enough for me.


And truthfully, the only thing I really want my coffee table to do is hold my drinks and act as the occasional footrest (if no one is watching, of course).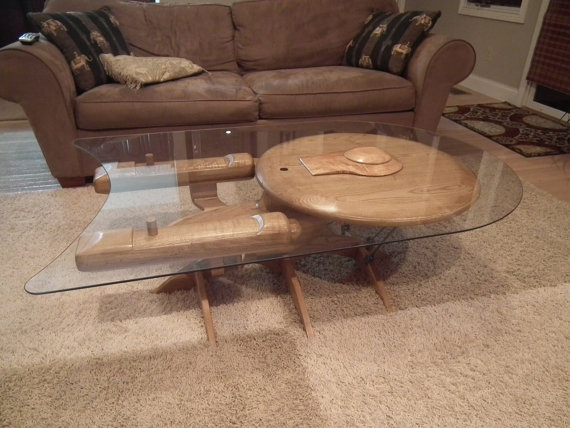 Then again, I think artist Barry Shields may have made the first coffee table that actually makes me want to buy a real piece of furniture.



Granted, my wife would never let a coffee table that looks like the Enterprise into "her" living room. I wanted to put my classy Star Wars Wampa skin rug in the game room upstairs and that didn't go over too well either.
I reckon either Shields' wife is a geek too or she is really supportive. I assume the guy is married because his house is tastefully decorated and I don't see empty beer cans and pizza boxes everywhere.



Shields says that it took him over a month to get the table just the way he wanted it. I wonder if he cut the parts out and sanded them, then glued the base of the table together or if he carved it out of a big chunk of wood. I would bet that it's glued together. If I were making this, I would have used some clear acrylic pieces for the legs so the ship would truly look like it was hovering or orbiting.



I also like how he cut the glass top of the table to follow the rough outline of the wood statue. The glass has the same radius on the backside that the Star Trek badges feature. If you just simply have to own one of these you can try to make one yourself, or you can buy one directly from Shields. He will crank one out for you for a cool $3,100.