As you probably know by now, there are currently two Independence Day (ID4) sequels in the works.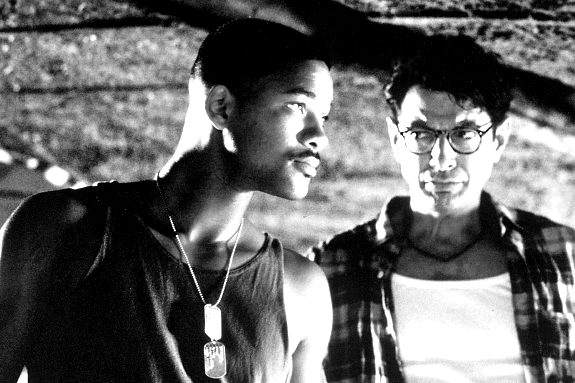 For the fourth of July this year, I wrote about the original Independence Day movie for TG, and it was a lot of fun looking back on one of the biggest blockbusters of the '90's.
In fact, I still think ID4 is great for what it is, a big, dumb popcorn film where you can turn off your brain and have fun for two and a half hours.


But as CB Droege notes, an ID4 sequel won't work without Will Smith, and apparently the actor wants $50 million to be in both films. And indeed, without Will Smith, the films will probably feel like direct to DVD sequels.
Then again, it also needs to be said that ID4 had a terrific ensemble cast that worked well with each other, including Jeff Goldblum, Judd Hirsch, Bill Pullman, Harvey Fierstein, and Randy Quaid.
In addition to riffing on practically every major sci-fi movie ever made, ID4 captured the spirit of the Irwin Allen disaster films, which boasted tons of movie stars trapped in an upside-down airliner, or burning skyscrapers.
In fact, Quaid gave one the ID4's most rousing moments (ala when Roy Scheider blew up the shark), when he sacrifices himself to save the world, which was poignant for half a second, then hilarious, ("All right, you alien assholes…"), and ultimately triumphant.



Certainly, Will Smith will be important for the next ID4 films, but the first ID4 also had a terrific attitude where it didn't take itself all that seriously, unlike Roland Emmerich and Don Devlin's follow up, the American version of Godzilla, which was just dreadful. 


Clearly, it will take more than the right number of stars and top notch effects to make the next two ID4s decent films. If Devlin cops another attitude, and pulls another Godzilla where he thought he was saving the world with a half-assed blockbuster, the next ID4s don't stand a chance.