Just how much do you hate PowerPoint presentations? Enough to join a political party calling for them to be banned?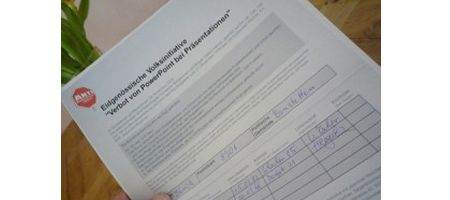 Matthias Poehm, a public speaking trainer for the last fourteen years, says he founded the Anti-PowerPoint Party (APPP) after discovering that presentations were rated much more highly if they were made without using PowerPoint. A flipchart's much better, he says.
Poehm reckons that the use of the presentation software costs Switzerland 2.1 billion Swiss francs – about $2.5 billion – by wasting the time of hapless employees. Despite this, he says, there's big pressure in companies and schools to use it.
"We are truly not pursuing any political goals. When we have enough proponents, we can quickly become the fourth biggest party in Switzerland by the number of members," he says.
"Thus, the media cannot ignore this problem any longer and the problem will be reported widely and deeply."
Poehm's mission may seem hopeless – but it's anything but. The Swiss are very keen on their referendums, and if Poehm can muster 100,000 signatures, he can get one called. Voters would then have the ability to ban the use of PowerPoint throught the country.
He's got a long way to go, though, with just 212 people signed up so far.
Poehm's also planning to stand in the country's national elections on October, and to field other candidates too if he can find anyone willing. And he plans to extend his campaign worldwide.