The dystopian classic A Clockwork Orange will be released on Blu-ray for the first time in celebration of its 40th anniversary.
Stanley Kubrick's 1971 film, A Clockwork Orange, portrayed an oppressive lawless society where man was reduced to little more than a machine. The film introduced the concept of "ultra-violence," as a singing, tap-dancing, derby-topped hooligan has a "good time" – at the tragic expense of others.
Forty years later, the world is a different place but the film's power still entices, shocks and mesmerizes today.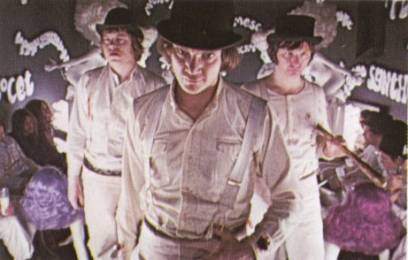 The film is based on the novel by Anthony Burgess, and while mostly accurate has a wildly different ending, and thusly a dramatically different message.
While Burgess novel was actually a bit hopeful, and even a bit normalizing, Kubrick's film ends on a note of terror, and fear for the future of mankind, especially for the nature of the next generation of young people.
The major difference is the final scene, which in Burgess' novel shows Alex (the dangerous youth) moving on, growing up, and putting aside his childish ways, the film shows Alex finishing the story in a position of dangerous power, one from which he will likely continue to torment and kill.
Malcolm McDowell's performance really sells the idea, as he seems to have been the perfect choice to get across the cocky, anti-hero that Kubrick needed for his adaptation of the story.
The two-disc release will include the remastered edition of the movie, a documentary called Turning like Clockwork, about the movie's impact on culture since its release 40 years ago, an interview with McDowell about working with Kubrick, another documentary apiece about Kubrick and McDowell, and a 40-page 'Blu-ray book' with photos and production notes.
A Clockwork Orange 40th Anniversary Edition come out from Warner Home video on 31 May 2011, and will retail for about $35. It will also be available from the iTunes store.