The original Lord of the Rings (LOTR) trilogy was a very risky venture, simply because New Line Cinema bet the whole company on the franchise.
So with the huge built in audience, nearly three billion dollars made on the trilogy world-wide, eleven Academy Awards for Return of the King, including Best Picture, the upcoming Hobbit trilogy should be a safe bet, right?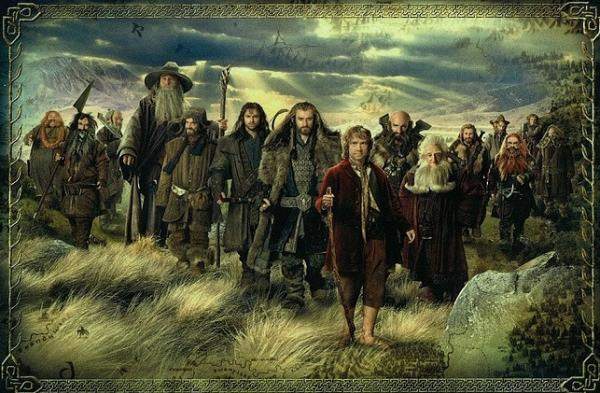 Well, maybe not. However The Hobbit turns out, it should have an enormous opening weekend, but the Hollywood Reporter is still calling it a "$1 billion gamble." As Kim Masters notes, The Hobbit novel was tied up "in a decades old Gordian knot." Not to mention that Peter Jackson was never going to make the Hobbit films in the first place, as Guillermo Del Toro and Sam Raimi were tapped to direct at one point, and when those plans fell apart, Jackson came back.
Warner Brothers is indeed committing a big chunk of $1 billion, that's right, billion, to make the three Hobbit flicks and market them. Masters reports that the two Hobbit films, before it became three Hobbit installments, cost about $315 million each, with the studio denying that figure, claiming it's more like $200 million a film. That's still a big amount considering the Lord of the Rings movies, which were all shot at the same time over 14 months, cost about $300 million.
The big difference this time is of course that The Hobbits are now in digital 3D, and moving at 48 frames a second, which many have said will be the salvation of the movie biz once everyone gets used to it.
As the Reporter tells us, The Hobbit was clearly a big undertaking, even after the long slog of the Lord of the Rings movies. The Hobbit has nearly a hundred sets, along with piles of Russian wigs with human hair for the dwarves and the Hobbit feet, and one crew member told Masters, "I've never done such a hairy movie."
The path to get the Hobbit made was pretty hairy too, even with the previous success of the LOTR trilogy. But from what people have told me about Peter Jackson, the guy absolutely knows how to stay cool under pressure. It remains to be seen how the return to Middle Earth does in the long run, but the journey of a thousand miles always begins with a single step, and the first installment of the Hobbit series, An Uncertain Journey, hits theaters on December 14, 2012.