Short-lived and unfinished, the original Battlestar Galactica told the story of a band of survivors of a thousand year war with the Cylons, a collective of machines created by another race as weapons long ago. Just as in the new series, the humans barely escape with their lives when a final push from the Cylons destroys their home world. Only one battleship along with a small fleet of other craft make it out alive, with their adventures against the robots making up the bulk of the episode plots. It's insinuated that these people are somehow distant relations of Earth humans, who are descended from a colony of people who left for their own reasons long ago.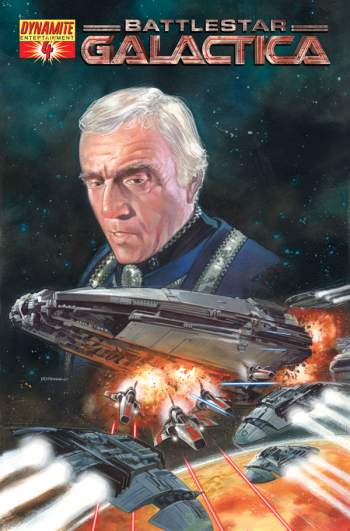 The television serial ended unresolved, with only the hint that the crew was setting out to locate Earth (after picking up some early television transmissions ). The story was continued, but remained unresolved in a made-for-TV movie, then picked up yet further in a series of official novels.
This isn't the first time Dynamite has had this license, and it's unclear whether this new book will be picking up from where their previous entries left off, or if a new continuity will be struck within the Battlestar Galactica canon.
Comics industry veterans Dan Abnett and Andy Lanning, who have worked together in the past for both DC and Marvel, have signed on to write the new book, but no artists have yet been selected, and so no art is available yet (the image at right is from Dynamite's previous run with the property). There is also no word how this might all tie in with the film adaptation due out next year.
"I'm really looking forward to working with Dynamite on this Battlestar Galactica project," Dan Abnett said in an official statement. "I've been a fan of BSG since I was a kid, and it's going to be great for Andy and I to get our cosmically-honed teeth into such a long-standing and beloved science fiction franchise."
"Growing up in the seventies, I was hooked on sci-fi. As a kid I couldn't get enough of it and grew up watching TV shows like Lost in Space, Doctor Who, Space 1999 and Land of the Giants and reading comics in the UK like Action and 2000 A.D. as well as all the Marvel and DC titles I could hunt down. Star Wars took things to a new high and in its wake there followed a flood of sci-fi entertainment that I lapped up. The original series of Battlestar Galactica was like catnip to my younger self; more than filling my rabid craving for spaceships, laser weapons, robots and alien invasions!" said writer Andy Lanning.
"It had cool characters, snappy dialogue, creepy alien cyborgs, awesome space battles with fantastic special effects (it was 1978 cut me some slack). So, imagine the thrill and excitement to be given the chance to develop something in the Battlestar Galactica universe: to get to play with characters and concepts that I've grown up with, that are such a part of my formative years. With this new series from Dynamite, Dan and I are hoping we can add to the established cannon of continuity with our own take on the classic series."
The new ongoing Battlestar Galactica book will see its first issues hit the shelves sometime in 2013.