Warehouse 13 showrunner Jack Kenny has confirmed that Brent Spiner will be joining the cast of the popular detective fantasy serial.
Yes, there is a new element is slated for introduction when the show returns this fall for its fourth season – another organization which exists to protect powerful artifacts, similar to The Warehouse. The Brotherhood – directly associated with the Vatican – is descended from the Knights Templar. They secretly protect artifacts and relics associated with the Catholic faith, similar to the way The Warehouse shields artifacts from science and industry.
Spiner will be playing the role of Brother Adrian, the leader of The Brotherhood.
He will undoubtedly be an interesting character who helps portray a fascinating conflict, especially considering that it doesn't look like The Brotherhood is supposed to be evil or malevolent.
Rather, it just seems interested in protect its artifacts, and their mission will be at odds with The Warehouse for at time. Here's what Kenny had to say about the character in a recent TV Guide interview:
The Brotherhood is descended from the Knights Templar and connected to the Vatican. It is charged with the protection of many powerful artifacts, one of which Artie desperately needs to make everything right again. … The use of this object will unleash an incredible evil and Brother Adrian is not about to see that happen… He heads a sect that is powerful and obsessively devoted and follows no rules. The Brotherhood will do anything to achieve its goals. They are gifted fighters who are willing to go to their deaths, if necessary.
So, perhaps The Brotherhood will go about their task with more zeal than The Warehouse, but for no less a good reason. Likely, the two organizations will be pushed to work together at the end of the subplot, which Kenny confirms will last through at least the first six episodes of the new season.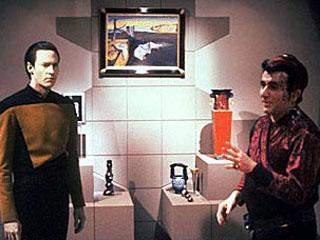 Coincidentally, this is not the first time Spiner and Warehouse 13 star Saul Rubinek (Artie) have worked together.
Years ago, on Star Trek: The Next Generation, Rubinek played, ironically, a collector of artifacts who wanted to add the android Data (played by Spiner) to his collection. It was a single episode conflict.
The new season of Warehouse 13 begins July 23rd, 2012 on Syfy.