TNT has announced a midquel webcomic for its popular sci-fi drama Falling Skies.
The comic – titled Falling Skies: The Battle of Fitchberg – is slated to go live over the weeks leading up to the season 2 premiere, covering the story of the three months that pass between seasons 1 & 2.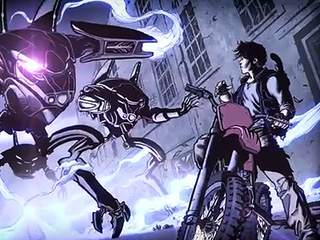 TNT teamed up with Dark Horse Comics' digital department to have these comics created, and they will be releasing the issues free every other week, starting now.
As you may recall, this is actually the second Falling Skies project TNT has collaborated on with Dark Horse. Before the series began, the network released a short line of comics which served as a prequel for the first season, explaining in more detail what brought our characters together in this terrible version of the world.
Falling Skies depicts the aftermath of an alien invasion. A small group of survivors comes together to fight back in a world where nearly all technology has been fried by EMP attacks. The characters explore the broken world, and their relationships with one another, while attempting to discover the nature and purpose of the aliens.
The press release describes the second season thus:
"This season will continue its extraordinary story about life and survival in the wake of a catastrophic alien invasion. Noah Wyle (ER) stars as Tom Mason, a former college professor and father of three, who has become an unlikely leader for the Second Massachusetts civilian resistance group."
The show is an example of an attempt at a big-mystery plot which simply didn't work all that well. The mystery wasn't compelling enough, and the questions did not roll purposefully enough with the plot. In a way, it was far too character-oriented. The melodrama of the relationships took the front seat in the show, while the mystery lost focus. However, perhaps this focus explains where all the viewer numbers originated from, since they probably didn't come from genre fans.
Falling Skies, which is produced by Steven Spielberg under Dreamworks pictures, returns to TNT July 17th, 2012. Falling Skies: Battle for Fitchberg #1 is available now on TNT's website and on Darkhorse Digital's site.