It's been about a month since we reported that FX's television adaptation of Brian Michael Bendis' Powers had lost its star due to scheduling conflicts with another show.
Unfortunately, there is yet more bad news regarding the development of the nascent show, but Bendis apparently hasn't let it slow him down.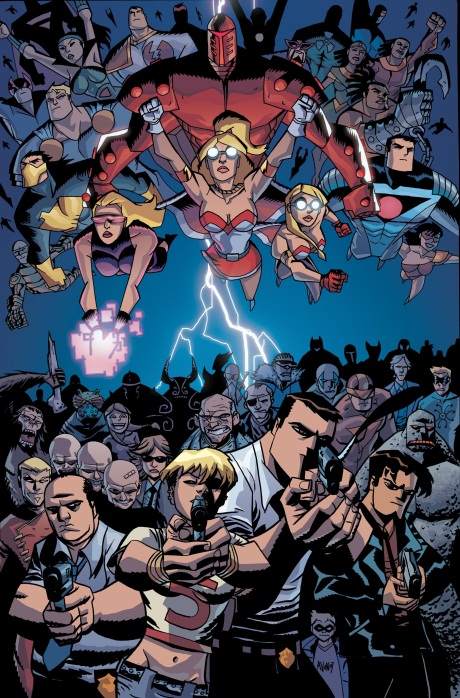 In an interview with CBR, Khary Payton, who played Cutter in the original pilot Bendis his team put together for FX, told the interviewer "The thing is that it's so cool. It's SO cool! I love it. I love 'Powers'. I love Brian Bendis and Michael Oeming. Those guys are – I honestly think they just cast me in it so that I'd go buy all their comic books. I have no time for my three-year-old anymore. I'm reading Brian Bendis and putting Michael's picture on my wall.
"But they're amazing, and there really is a commitment," he went on. "The higher ups want to do this so badly because they know it's going to be the coolest thing on television. But it's hard. It's a hard concept, I think, to get. And they had to step back and start over again. From what I hear, the plan is still moving forward."
"Unfortunately, we – all of the actors – got released. They're literally starting over. They want to do it again. And fortunately and unfortunately, I'm doing another show, and I still hope beyond hope that I can be a part of 'Powers.' But I'm happy to be working. But things are happening with 'Powers' absolutely. There are scripts being turned out. They just want more material to hear that they're getting it right."
What Payton likely means by saying that the actors got 'released', is that they've been given the option to back out of whatever contracts they may have signed without penalty, so casting may have to start over again from scratch when they have the script ready for the new pilot.
Powers is a comic book series that focuses on a pair of detectives in a special division tasked with investigating superhero oriented crimes.
One detective is a former strongman hero, who has lost his powers, but retains his deep understanding of the superhero community. The other is a young woman who has only just discovered her own secret superpowers. 


We previously reported that the comic books which the show is based on will soon be returning after a long hiatus. The author claims the delay was partly due to his spending lots of time working on the development for the show, which had to be rewritten several times for the minor network.
"FX is different from other networks. Other networks make a bunch of pilots and watch them once. They then test them and decide whether they want to put them on the air or not," Bendis said at the time.
"If FX greenlights a pilot they're 80 percent sure that they're putting the show on the air. They reshoot pilots before they abandon them. From what I understand the 'Sons of Anarchy' pilot that aired was almost completely reshot from the original. It was done by our director… So they look at it as a first draft of a five-year investment in a series, which I think makes their shows better. I think that's why their success rate is so high. If a series doesn't connect with an audience it isn't from a lack of quality."
There are no production or release dates announced for Powers.