One aspect we haven't really seen in the various trailers, teasers and photos from Universal's Snow White and the Huntsman is the film's interpretation or portrayal of dwarves.
Fortunately, the studio recently posted a pair of new stills on its Facebook page, which includes an image of the huntsman, played by Chris Hemsworth, walking with a group of dwarves, decked out in the furs and leathers of trappers and woodsmen.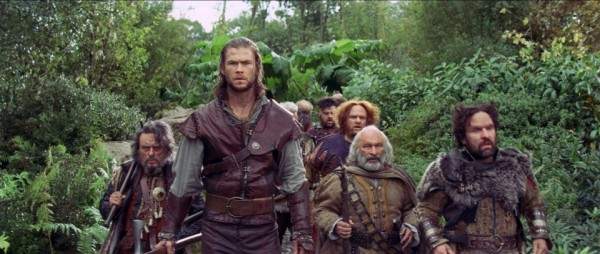 This image further solidifies the vast difference between in terms of tone between the two upcoming Snow White adaptations – the other being Relativity Media's Mirror Mirror with Lily Collins. Huntsman has a more serious air, and presents itself as an epic fantasy storyline, while Mirror Mirror is a goofy slapstick comedy with some romantic comedy elements.
The dwarves look fierce, stoic, and ready for a fight.
In contrast, the dwarves of Mirror Mirror look more like a carnival comedy troupe, as you can see in the picture below.
Now, I'm not saying this is necessarily a bad thing. I'm sure there is a large audience for a slapstick romantic comedy fairytale, but it rankles only because the official descriptions of the film claim to be a 'dark' adaptation of the classic tale, while the trailers and photos tell a completely different story.
The other photo from the Snow White and the Huntsman facebook page recently is less telling, but still very tonal:
We've seen an awful lot of Charlize Theron's witch already, as she seems to be the primary focus of most of the promotional material – almost ignoring Kristen Stewart's Snow White depiction after the initial reveal of her in shiny platemail a few months back.
The synopsis of the film is thus:
In the epic action-adventure Snow White and the Huntsman, Kristen Stewart (Twilight) plays the only person in the land fairer than the evil queen (Oscar winner Charlize Theron) who is out to destroy her. But what the wicked ruler never imagined is that the young woman threatening her reign has been training in the art of war with a huntsman (Chris Hemsworth, Thor) who was dispatched to kill her. Sam Claflin (Pirates of the Caribbean: On Stranger Tides) joins the cast as the prince long enchanted by Snow White's beauty and power.
The breathtaking new vision of the legendary tale is from Joe Roth, the producer of Alice in Wonderland, producer Sam Mercer (The Sixth Sense) and acclaimed commercial director and state-of-the-art visualist Rupert Sanders.
Audiences won't have to choose only one Snow White however, as they release a bit apart. Snow White and the Huntsman is slated to hit theaters on June 1, 2012, while Mirror Mirror will be out on 16 March 2012.