The new Image title is off to a fantastic start.
This month saw the beginning of a new macabre noir fantasy line from Image Comics, Fatale.
From Ed Brubaker and Sean Philips, the line covers the story of Nicholas Lash, a seemingly regular guy who gets caught up in a dangerous plot of murder and intrigue after the death of his godfather brings Jo, a mysterious, leggy brunette, into his life.
The story is broken into two narratives, though Nicholas seems to be the protagonist of the tale as a whole. The main narrative takes place in 2012 with Nicholas and Jo, while the braided narrative takes place in the 1930s.
Jo is there also, as Josephine, looking exactly the same, and she's caught up in another adventure with Dominic "Hank" Raines, Nicholas' Godfather, a journalist at the time.
There we learn that Jo has some sort of power, one which, at the time, she did not understand the nature of. She compels people to want to do things for her through some unspecified type of psychic connection. Hank gets tied up in her story when she accidentally uses the power on him during an interview for a story he's working on.
Meanwhile, a house full of cultists is killed horrifically, and a friend of Jo's from the first World War is the investigating officer, seemingly intending to cover up the evidence he has found at the scene.
The first issue ends without returning to the frame, but I have a feeling we'll see Nicholas in the first half of next month's issue.
The writing here is outstanding. Pithy and compelling with interesting characterizations. Image lists the title as horror, but I would call it macabre, though perhaps future issues will bring more elements that we think of as part of horror comics. Honestly, I hope not. I like the gory noir feel of this first issue, and I'd be happy to see it continue into the series.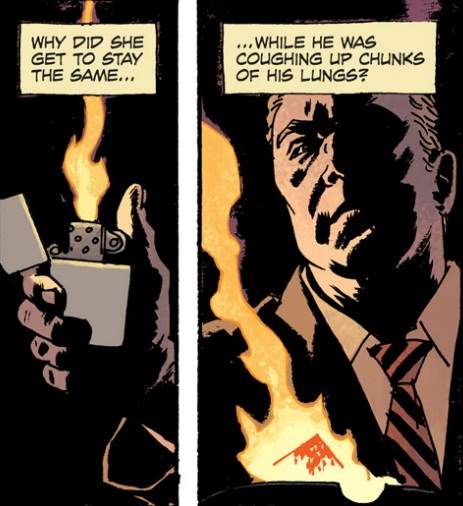 The artwork suits the title's noir side, giving us a slightly jagged and sketchy world that fits well with the mutability and sketchyness of the characters themselves. Nothing in this world is clearly defined, but nothing is bright or colorful either. Funerals happen in the pouring rain, and streets are lit only with the eerie glow of neon.
Overall, the line has an interesting 'big mystery' with compelling characters, and draws in the reader to its world well. The anticipation for the next issue is perfectly balanced at that point where I know I will be picking it up when it comes out, but it doesn't annoy me to wait.
Fatale #1 can be picked up wherever you buy comics, including the comiXology store.