If it's true that there's no such thing as bad publicity, PR man Paul Christoforo from Ocean Marketing is doing a jolly good job. His company is all over the internet this week, following an extraordinary exchange of emails with a customer.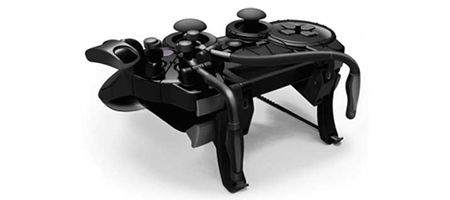 Ocean Marketing handles marketing for N-Control, which makes, amongst other things, PS3 controllers. And when customer Dave got in touch to ask where his Avenger controllers had got to, it was Ocean that fielded the email.
Considering that he'd been promised the controllers in early December, his December 16 email was pretty amiable.
"Any chance of getting an update of when these items will ship? I'm not really happy about being forced to pay upfront then have the advertised date of 'Early December' be completely missed without any sort of update on availability," he wrote.
"I really need one of them for a X-mas present as well. Anyways, looking forward to finally using one of these bad boys. Thanks and happy holidays."
He didn't get much of an answer. The best Christoforo could manage was: "They are in the USA now in customs so its wither [sic] before or after Christmas."
More emails follow, in which Dave asks why he's not eligible for the same discount as new customers, and asks for a refund. And this is where it gets really funny. Christoforo starts name dropping and insulting Dave.
"Son Im 38 I wwebsite as on the internet when you were a sperm in your daddys balls and before it was the internet, thanks for the welcome to message wurd up. Grow up you look like a complete child bro," he says.
By this point, Dave has decided to copy in a couple of news sites – and Mike Krahulik, owner of web comic Penny Arcade and organizer of the PAX East gaming conference. Krahulik warns Christoforo that he won't be given a booth at the show this year – but Christoforo fails to realize who he is.
"OK Mike whatever you say lol, are you sure hour not in Boston I spoke to the person who ran the show in Boston last year. If you let some little kid influence you over a pre order then we don't want to be a your show, Ill be on the floor anyway so come find me, I'm born and raised in Boston I know the people who run the city inside and out watch the way you talk to people you never know who they know it's a small industry and everyone knows everyone," he says.
When it's finally got through to him who he's talking to, though, his tone changes.
"I just wanted to apologize for the way our emails progressed I didn't know how big your site was and I really didn't believe you ran Pax , So for what's its worth I am very sorry," he says.
"Your post has obviously made my life very difficult and I have not slept yet dealing with all the spam and personal information intrusion as well as my family being smeared on the internet."
Poor lamb. Doesn't you heart just bleed? But as Krahulik says, "I think there is a big difference between being sorry and being sorry you got caught."
Read the whole exchange on Penny Arcade, here.