Warner Bros. has confirmed that there will be a special trailer for its upcoming Batman film, Dark Knight Rises.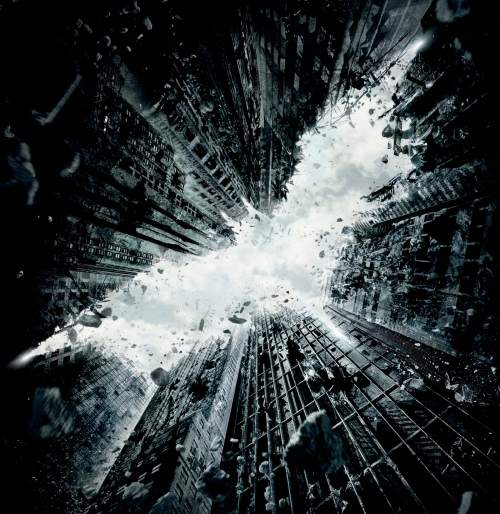 Yes, a six-minute 'prologue', which covers the opening scenes of the film, will appear before showings of Mission Impossible: Ghost Protocol, but only in select IMAX theaters.
Specifically, it will only appear in IMAX theaters which are still equipped with film projectors.
The sequence will appear with the release of Ghost Protocol on December 16, 2011 (December 21, 2011 in the UK).
Warner Bros. was kind enough to compile a list of theaters for the press release:
North American Theaters –
Austin, TX – IMAX Theater Austin – Austin
Boston, MA – Jordan's IMAX – Natick
Boston, MA – IMAX 3D Theatre in Reading – Reading
Calgary, AB – Scotiabank Theatre Chinook 16 – Calgary
Chantilly, VA/Washington, DC – Udvar-Hazy Center IMAX – Chantilly
Chicago, IL – Navy Pier IMAX Theatre – Chicago
Des Moines, IA – SCI IMAX Dome Theater – Des Moines
Detroit, MI – Henry Ford IMAX – Dearborn
Edmonton, AB – Scotiabank Theatre Edmonton – Edmonton
Harrisburg, PA – Whitaker Center for Science & the Arts – Harrisburg
Houston, TX – Houston Marq*e Stadium 22 + IMAX – Houston
Indianapolis – White River IMAX – Indianapolis
Los Angeles, CA – Irvine Spectrum 20 + IMAX – Irvine
Los Angeles, CA – RAVE 18 + IMAX – Los Angeles
Los Angeles, CA – Ontario Palace Stadium 22 + IMAX – Ontario
Los Angeles, CA – Citywalk Stadium 19 with IMAX – Universal City
Madison, WI – Star 18 Fitchburg with IMAX – Fitchburg
Miami, FL – AutoNation IMAX – Fort Lauderdale
Minneapolis, MN – Great Clips IMAX – Apple Valley
Montreal, QC – Cinema Banque Scotia Montreal – Montreal
Nashville,TN – Opry Mills Stadium 20 + IMAX – Nashville
New York, NY – Lincoln Square 13 with IMAX – New York
New York, NY – Palisades IMAX – West Nyack
Omaha, NE – Star Cinema 16 with IMAX – Council Bluffs
Orlando, FL – Pointe Orlando Stadium 20 + IMAX – Orlando
Ottawa, ON – Silvercity Gloucester + IMAX – Gloucester
Palm Springs – Desert IMAX Theatre – Cathedral City
Philadelphia, PA – IMAX & the Tropicana – Atlantic City
Philadelphia, PA – Tuttleman IMAX–Franklin Institute – Philadelphia
Phoenix, AZ – Arizona Mills 25 with IMAX – Tempe
Providence, RI – Providence Place 16 with IMAX – Providence
Quebec City, QC – IMAX Le Theatre At Quebec – Quebec City
Sacramento, CA – Esquire IMAX – Sacramento
San Antonio, TX – IMAX at RiverCenter – San Antonio
San Francisco, CA – Metreon 16 with IMAX & ETX – San Francisco
Seattle, WA – Boeing IMAX–Pacific Science Center – Seattle
Tampa, FL – Museum of Science and Industry – Tampa
Toronto, ON – Coliseum 12 Mississauga + IMAX – Mississauga
Toronto, ON – Scotiabank Theatre Toronto + IMAX – Toronto
Toronto, ON – Colossus 18 Woodbridge + IMAX – Woodbridge-Vaughan
Vancouver, BC – Colossus Langley + IMAX – Langley
Vancouver, BC – Silvercity Riverport 18 + IMAX – Richmond
UK Theaters –
UK – BFI London – London
UK – National Media Museum IMAX – Bradford
UK – Glasgow Science Centre IMAX Cinema – Glasgow
UK – Odeon Manchester IMAX @ The Printworks – Manchester
Other international showings may happen, but theaters and dates have not been announced yet.
"Our experience on 'The Dark Knight' shooting and projecting IMAX 15 perf 65mm/70mm film was inspiring," Christopher Nolan explained an official statement.
"The immersive quality of the image goes beyond any other filmmaking tool available, and in revisiting Gotham, we were determined to shoot even more of the movie in this unique format. Giving the fans an early look at an IMAX sequence is a great way to draw attention to what I believe will be an incredible way to experience our story when it comes out next summer."
Dark Knight Rises is the final film in Director Christopher Nolan's Batman trilogy, and stars Christian Bale as Batman, Anne Hathaway as Cat Woman, and Tom Hardy as Bane. The film is slated to hit theaters July 20, 2012.