Virgin America, which by any estimation was already the neatest commercial US carrier, is going even more high-tech.
The airline debuted its service just a few years ago but has become wildly popular thanks to features like in-cabin mood lighting, modern touchscreen displays in seatbacks, the ability to order food and drinks whenever you want, and Wi-Fi connectivity for a fee.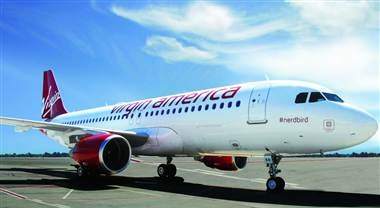 Unfortunately, the airline only serves a few of the largest hubs in the country, including New York's JFK airport, San Francisco, Las Vegas, and Los Angeles. The carrier is continuing to expand, though, and we're not just talking about new cities.
Virgin America will be the first airline to use a new in-flight system that makes seatback displays a more social experience. With other airlines like Jetblue and Delta, passengers can enjoy TV and music from their personal screens, but that's about it. It's very limited.
Virgin America's new system will bring Wi-Fi connectivity to seatback displays, making it possible for passengers to send e-mails, go online, check their frequent flyer account, etc.
There are other features involved with the new service. "For example, if a traveler did not finish watching a film or TV show in-flight, they could save and download to their iPod and finish at their hotel. We hope to build in custom concierge service as well. For example, you can log on via your Elevate number and get your flight details, movie choices onboard, plan your in-flight meal, etc," said Virgin America in an MSNBC article.
The flagship plane to employ the new system is called #nerdbird, and will be used on flights between San Francisco and Boston.