Social networking. Check. Layoffs. Check. Hot CEO. Uncheck. $750 million valuation. Check. Making money. Uhm.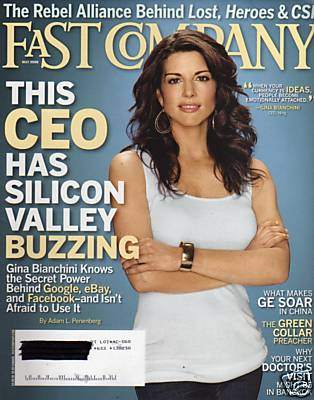 Marc Andreesen founded Netscape, and practically blew the lid off of Microsoft's stranglehold on computing. So, when he put his weight and considerable Remulakian good looks behind Ning, the Midas touch seemed guaranteed to produce something. It didn't hurt that Ning's CEO didn't look anything like Steve Ballmer or Eric Schmidt, and was considerably more desirable than Steve Jobs.
Sadly, today, the company headed into the usual post euphoria malaise of what comes after we have bought our way into an audience? Layoffs, new business models, and the heavy burden of expectation.
According to PaidContent:
"Looks like the departure exactly a month ago of long-time Ning CEO Gina Bianchini was not as benign as Ning tried to portray it. The build-your-own social network startup is laying off 40 percent of its staff, or 69 employees, and is moving to an entirely paid model."
And all eyes are in this piece of damning evidence that no good comes of being featured in a glossy business magazine. Billions of page views. Loads of money. We rock. It's all there. Mark the immortal words of the writer of the puff piece in Fast Company:
"By the time Facebook — or anyone else — could do that, Ning may well have ridden its double viral loop to impregnability. Because once it hits critical mass, the road is paved.
Then no one can stop it."
In truth, Ning ain't all bad. It's functional, and effective for what it does. It is also not doing badly. When Bianchini, aforementioned hot CEO, stepped down last month, Andreesen said:
"Ning today is one of the world's top social networking properties, with more than 2.3 million user-created Ning Networks and more than 45 million registered users, and is far and away the market leading social platform for interests and passions.
Ning Networks span every area of human endeavor, from the arts to business, politics to social activism, and every other field you can think of. Over 5,000 new Ning Networks are created every day, and we're adding a million new registered users every 12 days."
It's just hard to fathom a cutback and free to paid business model changes when you valued your company at $750 million not so long ago. I mean, heck, is it worth it, or is it worth it?
Bring back hot CEO and all is forgiven. There, that's my business plan in a nutshell.