Would you pay $30 to rent a movie on demand? No? Well, what if the film was brand new and still in the theaters?
Yes, that's the idea behind "premium VOD," a new service that allows viewers to order movies just out of the theater on demand, before they go to DVD.
Time Warner, Sony, Comcast, and News Corp are offering the films on DirectTV and soon some Comcast cable markets.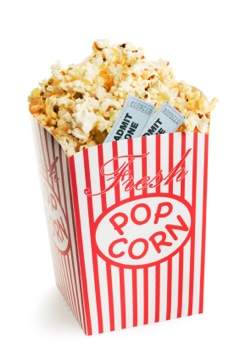 If you think about it, an average movie ticket costs around $15, whereas this is kind of like watching a new movie from the comfort of your own home in case you missed it in theaters.
Paying for the convenience of watching a movie in your own home may be worth $30 if you simply cannot wait until the flick comes out on DVD.
Perhaps consumers will be more receptive to the idea of paying different prices for the same movie whether it's consumer in the movie theater, home, or later on-demand because Hollywood has prepped us for this mindset.
For example, we're used to paying more to see a movie right away with the cost slowly dropping once it comes out on DVD, then eventually TV, then an old DVD for sale at a yard sale.
Plus, snacks are cheaper at home!
(Via Media Memo)