Now that the final NASA space shuttle mission has ended, the agency is tasked with the daunting responsibility of laying off approximately 3,200 contractors.
The 135th shuttle flight touched down at the Kennedy Space Center on Thursday, marking the end of an ambitious 30-year space initaitive. The U.S. is now supposedly focusing on deep space exploration, such as visiting an asteroid by 2025 and landing on Mars by the mid-2030s.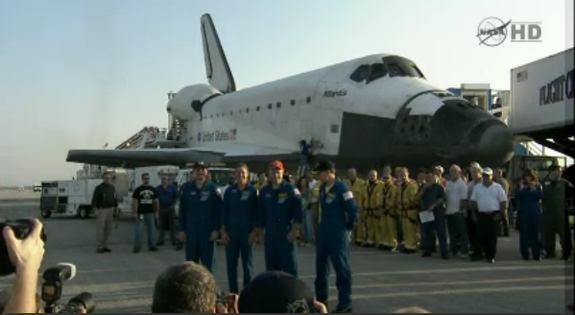 Since the shuttle team is no longer needed, it's being cut from 6,700 personnel to around half that.
The contractors knew the cutbacks were coming, and NASA shuttle director Mike Leinbach says the staff was prepared.
"There were good emotions that we brought the crew home safely, and the mission's complete. Certainly sadness that it's over, and people will be moving on. Hate to see them leave, but that's a reality," he said.
Cutbacks will continue into August where the agency believes only around 1,000 people will be left to manage the shuttle's de-servicing mission. Part of the de-servicing mission is to prepare the shuttles for museum display.
The Discovery shuttle is to go to the Smithsonian, the Endeavor to the Los Angeles California Science Center and the Atlantis to the Kennedy Space Center.
Beyond the layoffs at NASA, both Lockheed Martin Space System and Boeing will see staff reductions in the near future.
Flight director Tony Ceccaci read a statement to his team before the final mission. "Savor the moment," he said. "Soak it in and know you are the best, the best in the world. Your work here has made America and the world a better place. It's been an unbelievable and amazing journey."
From space exploration to a new home in the museum, the end of the shuttle program and the massive layoffs certainly mark the end of an era.


(Via Space.com)