For most, shopping is now easier than ever. In a world where purchases can be made entirely online, you can go from wanting something to having it delivered to your home after completing just a few, simple online steps. Unfortunately, those with certain disabilities are unable to take advantage of this convenient new way of shopping if the website isn't accessible.
Accessibility is an important thing to keep in mind for businesses. Creating an accessible online store means you're being inclusive, you can cater to more consumers, and remember: It's the law. Without an accessible website, you open yourself up to some potentially damaging lawsuits.
A Quick Overview: What You Need to Know about ADA Lawsuits
The Americans with Disabilities Act (ADA) was implemented to ensure that persons with disabilities would be given the same rights and opportunities as every other community member. The law prohibited discrimination against persons with disabilities when it came to transportation, education, and employment.
The ADA became a law way back in 1990, and while many companies have improved their services with accessibility in mind, others haven't. According to the Equal Employment Opportunity Commission (EEOC), charges filed under the ADA and those filed concurrently under Title VII, EPA, ADEA, and GINA reached 24,324 for the fiscal year 2020. That was slightly up from 2019, when the number of charges filed reached 24,238 (it was 2018 when the most charges were filed under the ADA – the total number of charges hit 28,073 during that year).
In short, businesses need to understand that the lack of accessibility is an issue for a lot of consumers, which you can learn more about here, but it can also be a real problem for them because they're opening themselves up to litigation. In 2021, you need to make your online store ADA-compliant, which is where accessiBe's s automated solution can help.
How accessiBe's Layered Solution Helps
If you're worried about your website being ADA-compliant and adhering to Web Content Accessibility Guidelines (WCAG), you can use accessiBe's layered solution to address those concerns.
1. The accessiBe Interface
When a user reaches your website, they can select a disability profile from within the accessiBe interface. Once selected, the mentioned adjustments will be applied. Note that users can also pick and choose the adjustments such as the font, orientation, and colors.
For instance, website icons can be changed in different ways. You're given over 20 different icons to choose from, and you can decide where they will be positioned. For those with motor impairments, color-blind users, and other sensory or cognitive disabilities, this customization is crucial. Even the shapes and sizes of different website elements can be tweaked if necessary, and animations will also be stopped if a user wants that.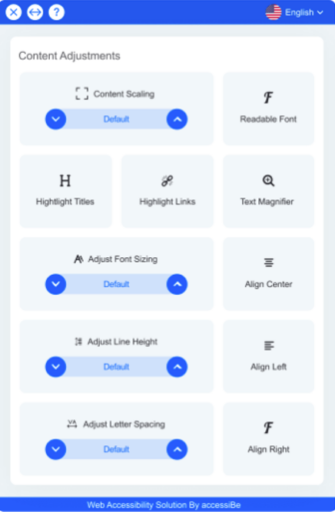 There are also quick navigation and reading modes baked into accessiBe. These will allow users to make their way through your online store easily. They won't miss anything as they parse through the content of the webpage.
The key here is that you as the business owner don't need to alter your website for the different impairments that your audience may have – accessiBe can take care of that for you so that all of your bases are covered (and again, there are a lot of bases to cover), which brings us to our next point.
2. The AI-Powered Processes
In addition to its adaptable interface, accessiBe also presents website owners with AI-powered features, including screen-reader and keyboard navigation adjustments. The screen reader technology can do more than just process text. It automatically provides accurate alternative text to images so shoppers who are visually impaired can browse all your store's offerings.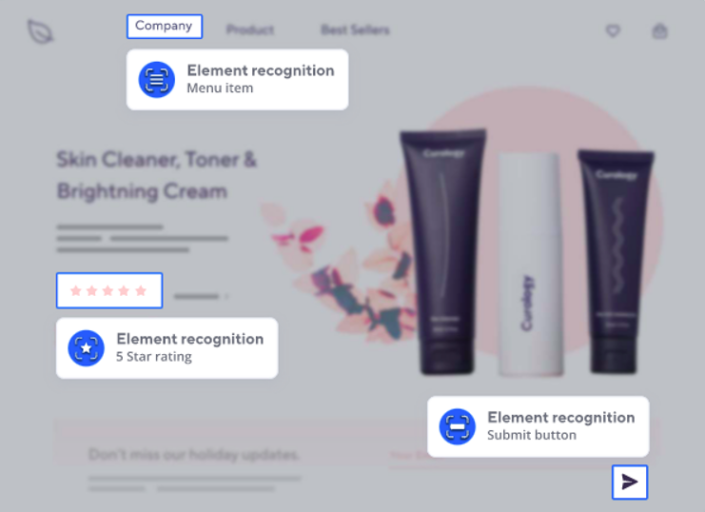 When it comes to keyboard navigation, your visitors won't have to worry about getting stuck on a listing or page with accessiBe's AI running in the background. In addition, its AI technology scans a website every 24 hours, looking for newly uploaded content that needs adjustments to be made accessible. You can entrust your site with accessiBe, knowing that you won't have to worry about long gaps in which your website elements aren't accessible.
3. User-Friendly Nature
You're installing accessiBe on your website because you want to make your offerings accessible to as many people as possible. It's all about making the process of buying or selling as easy as possible for your retail partners and customers. But users are not the only ones who will have a stress-free experience while using accessiBe…installing the software on your website will also be very easy.
In fact, accessiBe seamlessly integrates with popular eCommerce tools including Shopify, SquareSpace and others. Don't fret if you aren't using a large name brand to host your ecommerce store, though; as accessiBe is platform-agnostic and can operate on any website and any platform, even custom ones.
Summary
Accessibility matters, and it should be a primary consideration when designing any website or online store. Take full advantage of accessiBe's layered platform to transform your online store and open it up to everyone, and stay far away from any potential ADA lawsuit.

Sponsored by AccessiBe