Presidential hopeful Newt Gingrich was recently accused of buying followers on Twitter, a charge the Gingrich camp fervently denies.
The report, based on a tip from an anonymous former staffer, surfaced recently on Gawker accusing Newt of buying up to 80 percent of his followers on Twitter.
Buying followers is a common practice on Twitter, where people can purchase followers for as cheap as $20 for 1,000 followers. Of course this violates Twitter's terms of service, which strictly prohibits "Using or promoting third-party sites that claim to get you more followers (such as follower trains, sites promising "more followers fast," or any other site that offers to automatically add followers to your account)."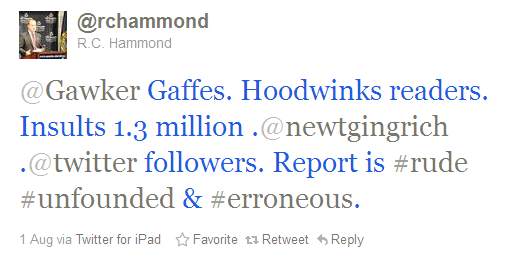 Although Gingrich has a large amount of followers, which may have prompted the probe from the get-go, Slate's David Weigel suggests Gingrich seems to have grown the following organically.
Weigel points out that Gingrich has been seen in Twitter's "Suggested Users" list and had many followers before the campaign even began. He also pointed out there's no evidence within the spending reports that indicating Gingrich bought any followers.
On the other hand, PeekYou, a social media company, pointed out that only 8 percent of Gingrich's followers are verifiable as real people. PeekYou's CEO Michael Hussey says the actual number is much lower than the average of 30 to 35 percent of verifiable humans within your average Twitter following. When determining the number, the company excluded spam bots, business accounts and private accounts.
In Newt's case, "We're not saying that 92 percent of his followers are spam," Hussey said. "We're working on the breakdown now, but generally, the lower the consumer ratio, the more spam there generally is."
Gingrich's campaign spokesman R.C. Hammon responded to the allegations Monday night stating, "@Gawker Gaffes. Hoodwinks readers. Insults 1.3 million @newtgingrich @twitter followers. Report is #rude #unfounded & #erroneous. "
Perhaps the heavy attention on Newt is partly because he has been so successful in his social media. Currently, Gingrich boasts 1,326,093 followers on Twitter, 9,600 on Google+ and 142,770 likes for his public page on Facebook.
(Via Washington Post)