The first Apple Store in Russia may be coming soon.
According to a report from fan site ifoAppleStore, two Apple vice presidents recently returned from a trip to Moscow, the capital city of Russia, where they discussed the potential of leasing space in the historic Hotel Moskva.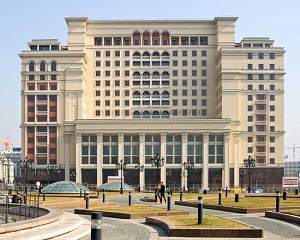 The retail deal would reportedly give Apple 16,000 square feet of space spread across two floors, making it one of the biggest retail outlets for the company.
Hotel Moskva is on the north side of Russia's Red Square and attracts millions of visitors from around the world. It would be an ideal location for Apple's first foray into Russia.
There are obvious logistical concerns with opening a store in the country, but Apple is clearly willing to combat those challenges. There is a strong community of Apple fanboys in Russia, but since there isn't much of an official presence there, consumers have been forced to fork over huge amounts of money for black-market iPhones and iPads.
Currently, Russia is one of the top five countries for iPad 2 orders on Ebay.
Apple officially launched the iPhone in Russia in 2008, with the expectation of selling 1.8 million units per years. With an official retail presence, it would be much easier for the company to control supply and provide products to customers in a much timelier manner.