Chicago(IL) – Nintendo once more led game console shipment numbers, according to market research firm NPD. The company accounted for 57% of shipments in January and is quickly approaching a 50% share of current-gen game consoles shipped overall – despite a one year market advantage of the Xbox 360. Of 39.5 the million consoles sold to date, Nintendo shipped almost 18.4 million units, and its share grows every month.
SLIDESHOW:
January 2009 Game Console Charts
(4 pictures)
The Nintendo Wii remains the dominant game console in today's U.S. video gaming market. According to NPD, the company shipped 679,000 Wiis in January, while Microsoft sold 309,000 Xbox 360 units and Sony 203,000 PS3s. While Nintendo claimed a 57% market share last month, it may be much more surprising to see that Microsoft appears to be extending its lead over Sony's PS3 and shipped 52% more boxes than its rival. Because of Nintendo's strong presence, Microsoft's market share numbers tend to shift quite a bit, but the Xbox has stabilized well over 20% over the past half year, while the PS3 is well below 20%.
Overall shipment numbers now stand at 18.38 million for the Wii, 14.17 million for the Xbox 360 and 6.99 million for the PS3. It is clear at this point that Sony will lose the current-gen game console race, if the company does not come up with a convincing new sales pitch for its product. Recently, Sony's Computer Entertainment chairman, Kazuo Hirai, said the PS3 is destined to finish first, and that Xbox lacks longevity.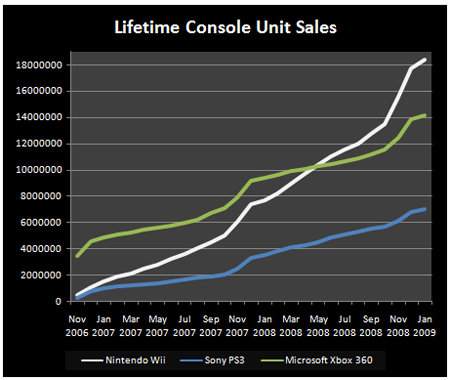 At this time, it seems that the Xbox 360 will keep the upper hand over the PS3 and somewhat can follow the shipment trend of the Nintendo Wii with sharp upticks during holiday seasons and a significant lead over Sony we have since September 2008. The consistent lead of the Wii, however, results in steady market share gains in overall current-gen game sales that cuts deep into the share of the Xbox 360 and to a lesser degree into the share of the PS3, which never has been significant anyway.
In January 2009, the Wii hit a market share of 46.48%, which is up 46.15% in December 2008 and up from 37.27% on year ago. At the current rate, the Wii is gaining about half a point of market share every month and should be arriving at 50% in the July or August 2009 time frame. The Xbox 360 currently stands 35.84%, down from 36.15% last month and down from 45.61% in January 2008. The Wii surpassed the Xbox 360's market share in May of 2008.
The PS3 is shedding market share as well, but at a slower pace. The console currently holds 17.68%, down from 17.70% one month ago, but up from 17.12% in January 2008 – which suggests that 2008 may not have been such a bad year for the PS3 as it looks at first sight. However, Sony has to be realistic at this time and admit that it is not calling the shots in this game console generation in the U.S.
Nintendo also dominated game sales for January, capturing the first three spots in the ranking with Wii Fit (777,000 units), Wii Play (415,000) and Mario Kart (292,000). Left 4 Dead for the Xbox 360 came in fourth place with 242,000 units. The best-selling PS3 title was Lord of the Rings: Conquest with 113,000 units at #10.