Las Vegas (NV) – Asus took advantage of the crowd present at the first major press conference at CES 2009 and showed off next-generation of EeePC netbooks, Windows 7 on netbooks, a multitouch EeePC as well as a 4.3" screen PC that runs inside a regular notebook.
SLIDESHOW:
CES 2009 Day 1 (24 pictures)
Netbooks and touchscreen products shape up to become two major stories at this year's CES. Asus pioneered the segment two years ago and seems to have an edge over its competitors once again. The upcoming 8.9" EeePc T91 and the 10" EeePC T101H are the first netbooks with a swivel screen – much like what we have seen with tablet PCs in the past. Tablet PCs were first shown at Comdex 2001 and never achieved the initially set goal to grow into a major product category.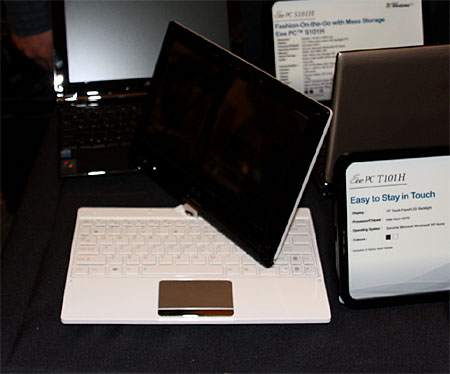 That may be different with the new EeePCs which should be much cheaper than tablet PCs. The devices shown at CES integrate a touchscreen and run Windows XP with a modified GUI (that actually looks much more like Linux than Windows). Microsoft was also on stage and touted its cooperation with Asus to make sure its software will run on future netbooks. To proof its point, the company showed an Asus EeePC netbook running its communications software as well as Windows 7 Ultimate.
The T91 comes with an Intel Atom Z520 processor (Silverthorne core), while the 10" T101H will get the N270 chip with Diamondville core.
A bit further out is the EeePC N20, Asus' first multitouch netbook. It comes with its own interface and multitouch application, which kept crashing during the presentation and did not reveal much of its potential.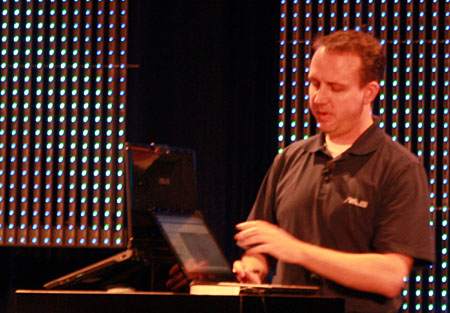 Much more interesting were two small PC products: The first was the Eee Keyboard, a compact keyboard with a 5" touchpad on the right side of the device and a fully functional PC inside. This "first wireless media center with integrated ultra-wideband HDMI" will be able to connect to any existing displays, including TVs – making it one of the most compact computers we have seen to date.

Asus also demonstrated a future notebook with a 4.3" touchscreen where you usually would expect a touchpad. While it can function as a touchpad, the device is driven by its own computing device to run display features such as email or even decode videos that can be projected on the larger screen. Asus claims the technology can extend the battery life of the notebook to up to 12 hours (if you spend a significant amount of time on the 4.3" device.)
Asus concluded its press conference with a concept PC: The company envisions mobile computers to become much more compact. In a brief video, the company revealed its "fold" notebook, a device that can fold into three different form factors and "slide" into other fold notebooks to enable screen sharing.  
There was no information on pricing and availability.