London (England) – The longest-delayed Playstation 3 title to date, Home, has been pushed back again to autumn 2008. It was initially scheduled to be available in autumn 2007.

The ambitious online application has been in a closed beta test for over a year and has faced massive changes during that time, causing developers to continuously delay the final release.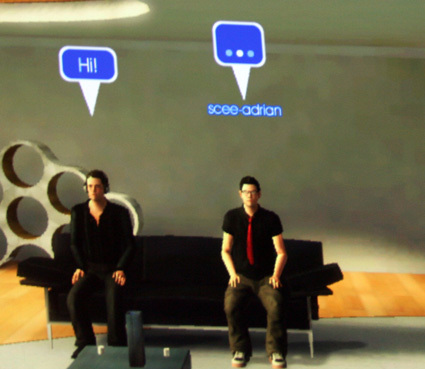 Sitting on a virtual couch in Home
The Home project, based in Sony Computer Entertainment's European studios, was first announced at the 2007 Game Developers Conference. It was mentioned again at length at the Electronic Entertainment Expo. However, Sony has made little to no public comments about Home since.
The service was initially planned for release last October, and then was pushed back to "spring 2008." Now it has been delayed even further. Home was also supposed to move into a public beta nearly a year ago. However, it remains on a restricted access level.
"We understand that we are asking PS3 and prospective PS3 users to wait a bit longer," said Sony Computer Entertainment CEO Kaz Hirai. "We have come to the conclusion that we need more time to refine the service to ensure a more focused gaming entertainment experience than what it is today."
Sony is looking into ways to market the service, not just to PS3 owners but to advertisers as well. There are numerous outlets for sponsored spaces, including a movie theater room for trailers and virtual picture/video screens throughout the environment.
Adding additional logistic problems, based on reports from beta testers, the Home environment has been completely reconstructed a couple times since regular users began the trial run in the first half of 2007.
In addition to providing a "Second Life" kind of online community, Home is expected to bring with it the launch of a feature like the Xbox 360's "achievements," with bragging rights for completing specific tasks in new PS3 games.