Chicago (IL) – A new wireless broadband router popped up on the FCC website today, indicating the Linksys and T-Mobile are working together on expanding the T-Mobile Hotspot@Home service from a cellphone to multiple home phone lines.

T-Mobile got into the VoIP game in June, when the company announced a national service that allows its subscribers to connect Wi-Fi-capable phones to its public Hotspots as well as a Wi-Fi network at home and making calls using the Internet rather than burning wireless minutes. As it appears, T-Mobile will be expanding this service quickly to offer general VoIP service at home to compete with VoIP providers such as Vonage as well as traditional phone providers.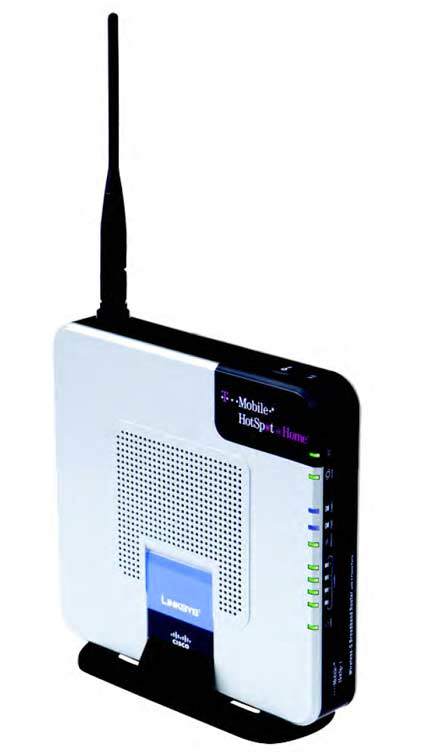 A tool to roll out the service appears to be a new wireless broadband router from Linksys with the model number WRTU54G, or simply named "Wireless G Broadband Router with 2 Phone Ports." Besides prominently wearing the "T-Mobile Hotspot@Home" logo, the device has a special feature, namely those two phone ports. There could be several ways how these phone ports could be used, such as a simple extension of a cellphone that makes use of the Hotspot@Home service. However, the manual of the router reveals that owners of the WRTU54G can insert up two GSM SIM cards into the device to support up to two different phone lines.
This concept has been known for a while and was used a couple years ago for cellphone base stations at home to enable users to use their regular phone at home rather than their smaller and more inconvenient cellphone. In this case, however, the manual shows steps how to configure those lines, indicating that those SIM cards are merely a way to get up to two phone numbers into the WRTU54G, while actual calls may actually be made via VoIP and not via a cellphone network.
Of course there is the question who this VoIP provider may be, but we are fairly confident to say that it will not be AT&T (the other big GSM provider next to T-Mobile), given the fact there is a big T-Mobile sticker on the WRTU54G. We are fairly confident that T-Mobile will turn out to be the VoIP provider, catapulting the company into a segment where the company suddenly competes against traditional phone companies in the U.S., including AT&T.
Pricing of such a service will be critical for the Hotspot@Home service, but it is unlikely that T-Mobile would be offering the service essentially for free. The regular Hotspot@Home service is currently priced at a flat fee of $9.99 per month.
We were not able to reach representatives from T-Mobile and Linksys to comment on this new router.