Chicago (IL) – It has been a busy week for AMD, as the company unveiled the two-socket dual-core platform Quad FX and showed off its first native quad-core processor to analysts. And the PR frenzy is not over with more news being expected this coming week. The announcements are still fresh, but we already noticed some impact on AMD processor pricing.
New processors are always interesting not only for people who want the latest, but also for people who have their eyes on older CPUs. New high-end models mean that previous high-end models trickle down into the mainstream, become more available and, most of the time, are sold for lower prices. This week, AMD introduced Quad FX, which was believed to be positioned against Intel's quad-core QX6700, but ended up to be more of a workstation "megatasking" solution that isn't aiming for the enthusiast gaming market.
On the heels of the introduction of Quad FX, we noticed some significant price drops in AMD's dual-core processor line-up. However, keep in mind, that Quad FX may not directly impact pricing of AMD X2 processors, as these two products could attract different kinds of customers. The same goes for FX and Quad FX processors (see details in out Quad FX launch report). The conclusion that Quad FX has impacted AMD's retail pricing would be quite a stretch, at least in this early stage. We will monitor this situation closely, so keep checking back for updates.
Also, notice that we have not included the new two-processor packages (FX-70, 72, 74) in this week's price/performance article, because of a lack of wide availability for consumers. Some e-tailers have begun listing the packages, but consistently refer to Socket AM2 FX-70-74 processors, while these CPUs are only available for Socket 1207. Pricing of these processors is up to 30% below AMD's already aggressive pricing strategy and it will take at least one more week until we can confirm some real-world availability of BYO Quad FX.
On the Intel side, prices this week shifted unusually to give us the lowest price/performance correlation that we have recorded so far.
The biggest newsmaker this week is AMD's Athlon 64 X2 4600+, which recorded both the biggest absolute and relative price shift this week, with a 22%, $69 drop from $320 to $251. It's not the lowest price we've seen on the 4600+ (on October 13 we recorded an average price of $243), but it does bring it back to a level closer to its expected relative price. It had been climbing up over the past month and this decrease brings it back to where it was during most of October. As a side note, AMD's 1000-unit price of the 4600+ currently is $240.
The same is true for the 4800+, which fell from $389 to $343, a 12%/$46 decline, and the FX-60, which went down $32 from last week from $618 to $586, a 5% drop. Both of these went up in price last week and fell back down this week. The 4800+ as well as the FX-60 are CPUs that are being phased out and aren't part of AMD's official price list anymore.
Interestingly enough, though, the two record-makers were the two AMD processors that saw an increase in price. The 4400+, after a $16, 6% increase from $263 to $279, as well as the 3800+, which jumped $36 (22%) from $165 to $201, both logged in the highest price we've seen for them on our price/performance charts.
With regard to Intel, the processor prices didn't see any real overall trend, except for an additional decrease in the price parity. On the whole, processors that were already priced above the relative price, like the Extreme Editions, rose in average price, and the reverse happened for processors that were already underpriced.
Analysis: Intel, AMD on a more predictable pace
Correlation between price and performance fell across the board this week. Despite price shifts for some processors back to the level we saw in October, when the correlation was in the 0.9 level, the correlation fell 3.2% week-to-week, where it stands now at 0.864, compared to last week's 0.892. This is because of the price increases for the 4400+ and the 3800+, along with the lack of corresponding price shifts among the other processors.
For Intel, correlation dropped as well to the lowest we've recorded over the past two months. When we include overclocked processor data, the correlation is 0.576, a 1.2% drop from last week's 0.583. It's worth noting again that we include overclocked data to provide the relevant information for enthusiasts who want to see the level of performance for the price on processors with well-documented overclocked capabilities.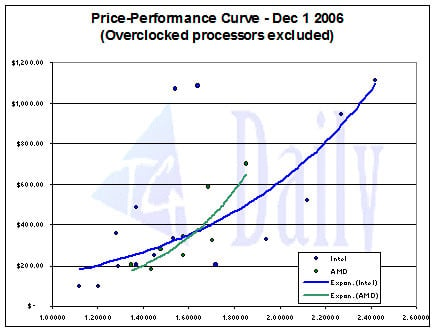 Click image to enlarge
Without the overclocked versions of the processors included, the correlation for Intel is 0.628, also a new record low for our weekly articles, and a 1.6% fall from last week's 0.639. Also, because of the big price drops for AMD, its dominance in the lower-end market rose a bit this week, providing, on average, the best bang for the buck up to about 1.7 on our relative performance scale.
Click image to enlarge
Once again, when we separate the Intel data into Pentium D and Core 2 groups, we can see where the overall correlation comes from. The Core 2 side of things is actually quite decent, with a correlation of 0.935. The Pentium D processors, on the other hand, are more scattered than we've seen in the past eight weeks, netting a correlation of 0.779. Last week, it was closer to 0.79. We're still in the flux of brand new entrants from both Intel and AMD, and pricing of current stock of older products is adjusting to the appropriate levels of consumer demand for the new models.
Looking ahead, Intel is entering a phase of a more stable product line-up than we have seen over the past six months. Most of the portfolio is set and won't change until the introduction of 45 nm processors at the end of 2007. The only noteworthy introduction will be a mainstream quad-core processor with Kentsfield core. The Core 2 Quad Q6600 will be launched with a clock speed of 2.4 GHz in Q1 2007. Quad-cores (Q6600, QX6700) with more clock speed could become available in Q3, but our sources weren't able to confirm such processors at this time.
As previously reported, AMD is gearing up for a 65 nm release of X2 processors, which however will not bring higher performances initially. The firm's roadmap has listed a bunch of faster X2 processors which apparently are delayed: X2 5400+ and 5600+ versions were scheduled originally for a November launch. A 6000+ version is listed for a December introduction. When available, these processors may enable AMD to regain a position in the $400+ segment of processors. The highly anticipated quad-cores will not be available until mid-2007.