NVIDIA today announced additional details of their new nForce3 Go120 platform which supports the newly announced Transmeta Efficeon microprocessor family. The details which were provided today, provide more information as to what be included when the first systems featuring the nForce3 Go120 chipset makes their appearance sometime in 2004.
The focus of the nForce3 Go120 is on ultra portability and a lightweight form factor, including extended battery life, while delivering an uncompromised ability to run the Windows OS. With the nForce3 Go120 NVIDIA is poised to deliver the building blocks to PC oriented devices, rather than devices that are based on a PC extension (such as standard PDA devices). In order to accomplish this, the overall chipset packaging had to reduced in size. NVIDIA has addressed this reduction by downsizing the "real estate" space that a typical mobile motherboard occupies. With a target of only 3.3″ x 6.1," NVIDIA has apparently managed to meet this reduction successfully. According to NVIDIA, the nForce3 Go120 solution offers a footprint that is nearly 30% smaller than a comparable Intel solution; this was mostly made possible by taking advantage of a smaller sized GPU, nForce3, and an Efficeon processor.
The nForce3 Go120 features a 22mm x 22mm FBGA package, and also offers 4th Generation HyperTransport Bus, 3rd Generation AGP 2.0 Interface, 3rd Generation NV 802.3 w/ASF support, Dual Channel ATA-133, 3rd Generation Integrated Clock Synthesizer with Spread Spectrum, 2nd Generation USB 2.0 implementation (with support for up to 6 1.1/2.0 ports) and Transmeta LongRun support, all of which uses the .15u process.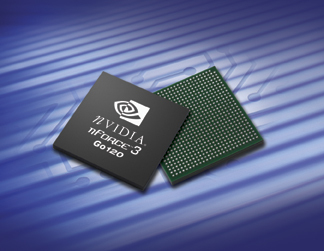 The nForce3 Go120 will use NVIDIA's ForceWare UDA technology for one driver, one package technology.
It is interesting to note the reduced footprint that the nForce3 Go120 requires. While most likely we can expect to see this small footprint in mobile products, this small form factor opens up many other technology possibilities as well. With the offer of GeForce4 graphics and a low power level consumption, this solution could also present opportunities for use in home theater/DVR applications. While the NVIDIA nForce3 Go120 is an important building block, much will hinge on the performance of the Efficeon processor to ignite a consumer acceptance level; consumer interest has been barely lukewarm for Transmeta products in the past. While the nForce3 Go120 is not available yet for retail purchase, NVIDIA is already sampling the nForce3 Go120 to a number of OEMs. Look for actual products to start showing up in the retail sector in 2004.